Meet Our Donors
We thank all our planned-gift donors for their generous support. Here are some of their stories.
Tom Scheye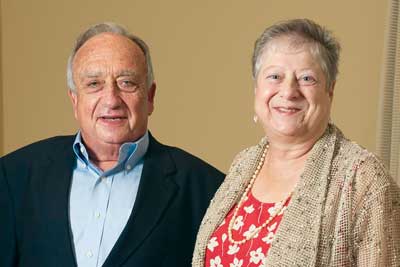 Loyola University Maryland received a $500,000 planned gift from Paula and Thomas Scheye, Ph.D. This, added to their current gift, will create an endowed chair position in the University's English department.
Dr. Scheye and Mrs. Scheye, M.A. '90, have long been supporters of Loyola through service and philanthropy. Dr. Scheye served in faculty and administrative roles at Loyola for nearly 50 years. He arrived in 1970 as an associate professor of English, was appointed academic vice president of Loyola in 1978 and provost in 1986, a dual role he occupied until 1999. His leadership and numerous accomplishments during those two decades were instrumental in transforming Loyola into a regional residential university of distinction, and the nationally-competitive institution it is today. Dr. Scheye was acting president of Loyola for 18 months in 1993-94 following the death of Rev. Joseph A. Sellinger, S.J. He was the first lay acting president in Loyola's history.
"This really is a token of faith in the English department and humanities at Loyola," said Dr. Scheye. "The humanities have been the essence of Jesuit education since St. Ignatius Loyola attended the University of Paris. For Loyola University Maryland, our curriculum of the future, our curriculum of the 21st century, needs to be based on technology, business, and the humanities. Technology is the tool we use to organize and analyze information, business is a forum in which we can use information, and the humanities are crucial to help us understand, interpret, and explain information in such a way that it could lead to wisdom."