Meet Our Donors
We thank all our planned-gift donors for their generous support. Here are some of their stories.
Mary Hyman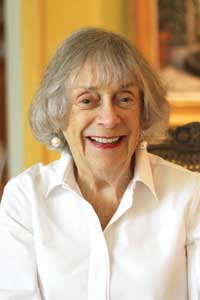 Loyola University Maryland received a $2 million planned gift from Mary Hyman, former coordinator of science education programs and the Institute for Child Care Education with Loyola University Maryland's School of Education, to create endowed scholarships in education and the sciences for undergraduate and graduate students.
The gift is funded by The Hyman Foundation named for Hyman's husband, Sigmund, who died in 2002. Four scholarships will be established with assets bequeathed to Loyola from The Sigmund M. Hyman Foundation upon Mary Hyman's death. This is the largest bequest from an employee in Loyola's history.
"Loyola has been an important part of my life for 26 years, and it has been a joy to interact with so many dedicated people at the University. I don't think I could have worked for a better place," Hyman said. "It is also heartwarming to hear alumni and others speak highly of Loyola out in the larger community. The striving for academic excellence and the concern for individuals is apparent in many facets of Loyola's achievements."